Last week, the JRP for the Northern Gateway Project was in Vancouver to hear oral statements from the public towards the proposed project. Janie took the opportunity and presented her personal views to the panel. We would like to share with you what she had to say, you can click on the audio clip below to listen and follow along, or just read this for yourself.
Good Afternoon. My name is Janie Wray. I would like to thank you for the opportunity to speak to you today and to say that I am opposed to the Northern Gateway Project. I would also like to thank everyone who has spoken before me – your words were inspirational.
I am one of only 2 people that can I say, I live along the proposed tanker route, on Gil Island.
My research partner and I built a facility to study whales, there, in 2001. I was adopted into the Killer whale Clan of Hartley Bay and given the name Ksm Kli Gayse. This translates to "The Lady of Gil Island." The reason I live on this remote island is my passion to research and protect whales. I did not know 12 years ago that I would be protecting whales from oil tankers. I am grateful that I followed my instinct, my destiny. I have spent more time on the water with this population of whales than any other. I have watched calves grow into juveniles and juvenile become adults, then watch as they bring their first calves back to these waters. I have witnessed social connections between whales that have lasted as long as I have been here – like us humpbacks choose companions through choice and not relations – Orca live and stay in family groups that will last their entire lifetime. I was driven to photograph and document each and every whale encounter from early spring until late fall, for the last 10 years.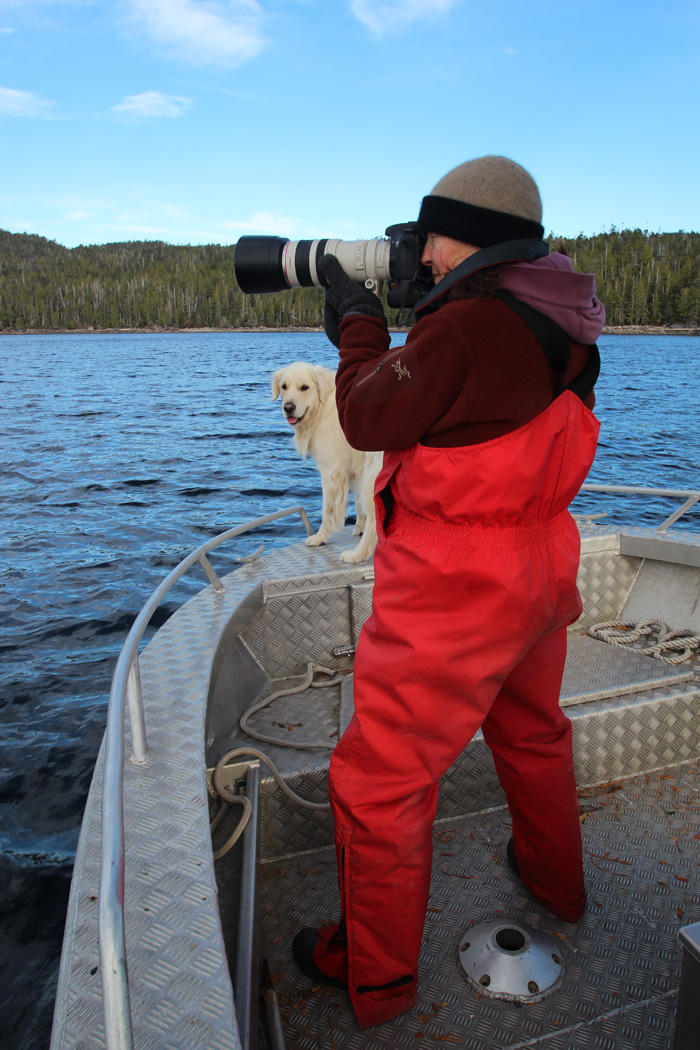 As they say every picture tells a story. This is the short version of what I have seen, what I have heard. In 2004 I identified 42 individual Humpback Whales, the same for 2005. Then in 2006 something changed. That number began to grow. In 2011 that number had increased to 252 Humpback Whales and by the end of 2012 close to 300 individual Humpback Whales were identified. What is SO interesting is that the same whales are returning year after year; they are becoming seasonal residents. Something else took us by surprise in 2006. This was the first year we had ever seen a fin whale right in front of the lab.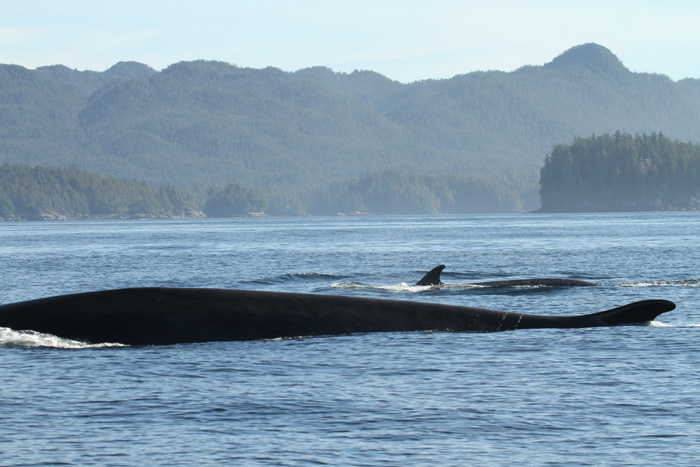 They are impossible to miss, being 60 to 70 feet long, the second largest animal on the planet, next to the blue whale. For the first few years these sighting were extremely rare. Now, to see a fin whale is a common occurrence. Why this sudden increase in both populations? Since it has been over 40 years since the last whale was hunted off the coast of BC, and killed, I believe they are coming back home. They believe it is safe, there is plenty of food and it is quiet. This may also be the reason that the humpback whale has once again began to compose their long mysterious songs from Caamano Sound to Douglas Channel, along this proposed tanker route. If you are going to sing, or call out for your family or mate, it needs to be quiet if you want to be heard. Whales use sound as we use sight, to perceive their environment
Orca – both resident and transient populations have traveled these waters for 100s generations. When we set up our network of hydrophones this enabled us to listen to the underworld of whales, we were thrilled to realize we were in the center of an orca highway. We can follow these families just by listening to their familiar dialects as they traveled through Caamano Sound and around Gil Island from early spring unit late fall.
I would like to share with you a typical day on the water. On this survey day I am on the water by 6am and traveling in Whale Channel, close to shore, following 2 humpback whales – waiting to take an ID picture. Suddenly out of the corner of my eye I see something white – I turn and look and to my surprise a young spirit bear has just come out the forest and is now following the rocky shoreline.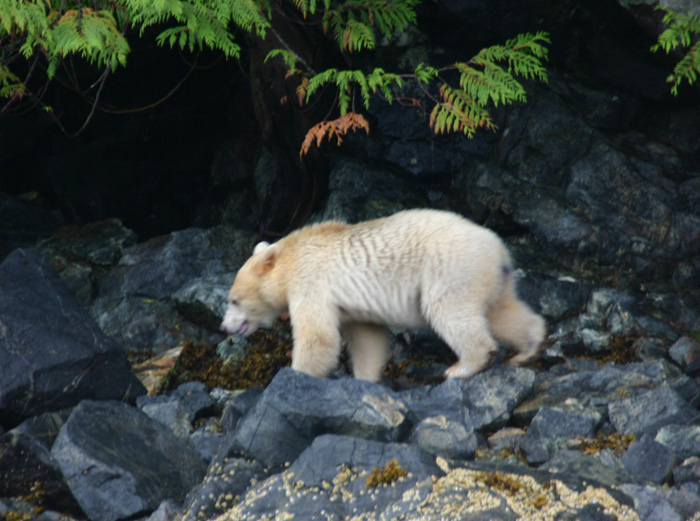 He is quite young and most likely this is his first year away from mom. I decide to leave the whales and follow this little one. He is heading towards Kiel the spring camp used by Hartley Bay to dry seaweed and halibut. There is a buoy you can tie up to – which I do as I do not want to frighten this little bear. He is quite oblivious to me – what a wonder to watch as he explores under rocks then eventually wades across a small creek then back into forest.
I feel absolutely blessed.
Then a call on the radio.
The Gitga'at Guardians had just spotted a group of 20 to 30 0rca! The location is only 10 min from my location. By the time I arrive this group of orca have formed a resting line, traveling side by side, breathing as one.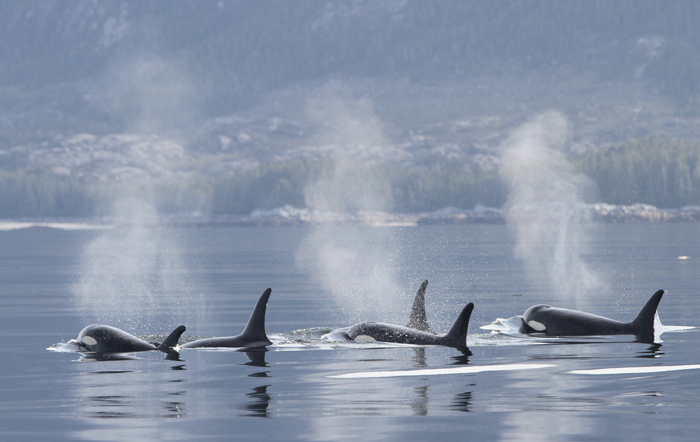 They are traveling towards the shore of Campania Island in Squally channel. In the distance along this shoreline I can now see more blows. As we get closer I realize the orca are slowly taking us towards a large group of humpback whales that are bubble net feeding. When we arrive I depart from the orca and travel closer to the humpback whales – there are 12 and I have known each one for over 10 years - this group of whales meet here every season and feed together – this has become their tradition.
It is still early afternoon so I decide to travel north in Squally towards Lewis Pass; here I stop and turn off the engine. At first I thought I was completely alone as not a sound could be heard – then there it is – a distant blow – then another and another – soon I realize humpback whales surround me. They ware spread out from one side of Lewis Pass to the other.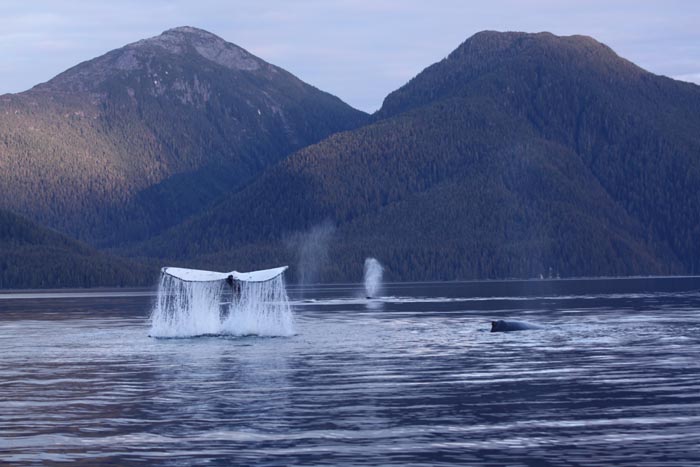 As I travel from group to group I recognize 3 mother and calf pairs – just resting on the surface. Two of these mothers I have known for years and for both these are their second calves. They bring their calves to these waters because they believe it is safe. When humpback whales sleeps they float on the surface. We often call this logging as they could be mistaken for a log; they are so still. I have approached these whales while they sleep, in my boat - they do not move.

So as I sit and watch these resting gentle giants I ask myself – what would a tanker do on this day? To your right is a whale – to your left is a whale – in front of you are whales. Lewis Pass is just over 1.5 miles wide. Even in my small boat I would have a hard time maneuvering through this maze of cetaceans. A tanker cannot stop – it must move forward – on this day it would hit whales.
I begin to travel back towards the lab; along the way I sight 3 more groups of humpback whales and 2 massive fin whales.I am in a bit of a hurry by now, as I need to get ready to be at King Pacific Lodge to give a whale presentation to their guests.When I arrive at the lodge I am greeted by 25 extremely excited people. They all want to share their experience of the day of seeing a wolf, or a bear, a salmon, a seal, a sea lion, an eagle and of course, a whale. They were all vibrating with excitement and in disbelief that so much could be experienced in one day, in this one location. After the presentation a young girl approaches me, she is about 9 years old. She tells me about her experience of seeing orca for the first time in her life – she was vibrating with joy. I was so moved by her story as I realized when she arrives back home and shares this experience with her friends and classmate she would inspire in them a curiosity and need to experience nature for themselves. I believe this is something we all want for our children.
In Conclusion
The potential threat from oil tankers towards so many different species and the livelihood of First Nations in this sacred, pristine and intact ecosystem is not in the National Interest of Canada. The area along this proposed tanker route is like no other on this planet – it is so alive – so diverse. That is why so many people have sent you their written evidence, their personal experience of this place, or have sat here, in this chair, and asked you, as I will now – please say no to this project.
HELP US PROTECT THIS LAND THIS OCEAN FOR ALL CREATURES FOR ALL PEOPLE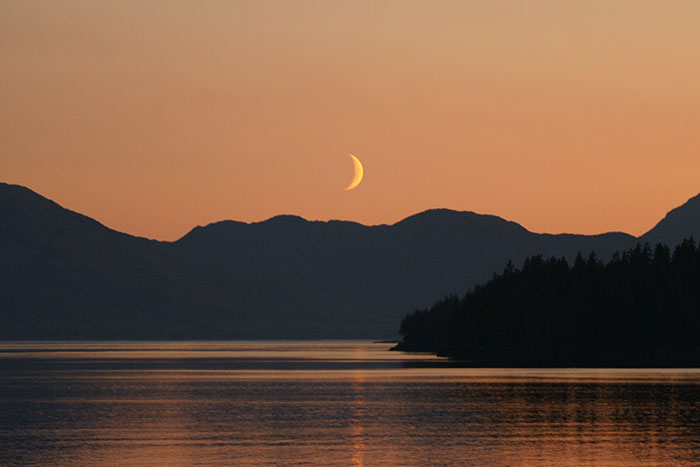 Thank you for your time today
Janie Wray