Written by Sophie Scotter
It can be so easy to become trapped in life's little tide-pools – many of us will embrace it, like the humble sea anemone, whilst others, myself included, will worry that little bit more about the return of each flood tide, perhaps more like a rock sculpin, flitting back and forth between excitement and trepidation. There are days however, when life gives you that little shake, and you realize that as long as the tides are indeed still turning and the sun is still rising, everything will always turn out just fine. Let me tell you why today was one of those days.
Hermann, Katie, Neekas and I were out on the water by 7am, after hearing both G and R clan calls on the Squally Channel hydrophone. This wide passage is favored by Orca who cruise the shorelines of Campania and Gil Island, reaffirming bonds, fishing, playing and seemingly very much embracing the to-ing and fro-ing of day to day life in these chilly waters. When we first located the 3 groups of whales, the sun had barely crept up in the East and rays of light plunged each dorsal fin into a beautiful silhouette as it rose and fell through the water, the vapor from blows raining down on these majestic 'blackfish' (a native term) like an angelic aura.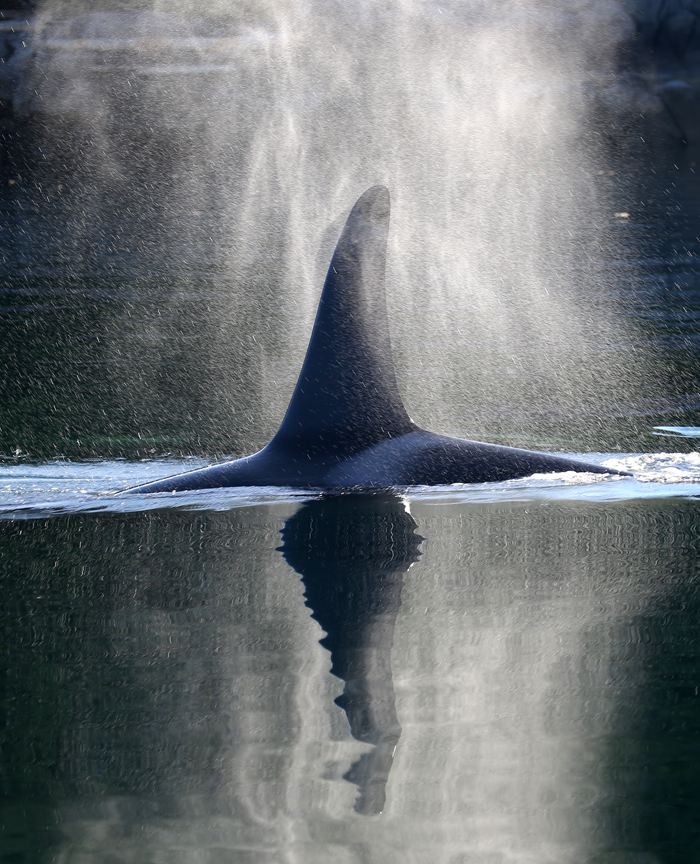 They seemed hardly to mind as we travelled alongside them and the sun soon became high enough to follow them as they swam slowly under the water, staring up at us with inquisitive eyes and displaying their 'jigsaw piece' white undersides, a stark contrast against the dark dawn water. Leaving the shoreline for a moment to navigate the protruding rocks, the whales approached the boat carefully and the following moment was truly one to behold. As the female dove, she turned on her side to cast us a glance as she swam beneath the boat, joining a large male on the port side as he too dove for a brief moment to show us his enormous size and beautiful coloration. To have such a moment of silent, emotional exchange with Mother Nature is extremely clarifying and for a second everything else, everything I could possibly think of, seemed totally insignificant as tears began to stream down my face. I was not alone, in that moment we were all on the same page. Each of us understood perfectly why we share an all-consuming passion for whales and why protecting them has become a part of each and every one of our lives in all kinds of wonderful ways.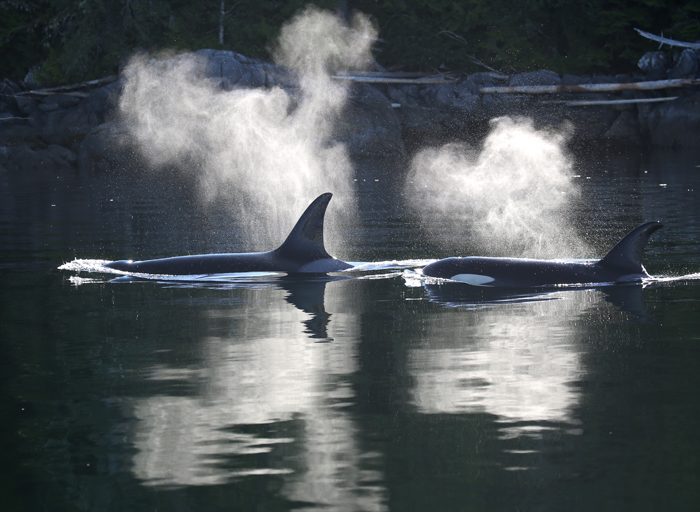 We stayed with the groups as they merged and watched in awe as they hung gently at the surface, with eyes in every direction and juveniles running amok amidst the resting adults. They would roll onto their backs with pectoral fins and flukes smashing down onto the surface of the water, the sound taking seconds to reach us as they kept their distance and retained tight formation. Occasionally the whales would motion above the water head first in a 'spy-hop' and without creating so much as a ripple on the surface they would take in their surroundings before sinking gracefully back underwater. The whales spent over and hour deliberating their next change of direction, during which time we were greeted with the tonal blows of several large humpbacks that were cruising at the surface and could be heard for miles around. The abundance of whales created for a puzzling morning of not knowing where to look next – but I wouldn't have it any other way. As we headed over to the coast of Campania, the I15 matriline signed out with an excited call that could be heard through the hull of the boat, and then they were gone.
Today the wilderness came knocking at my door and as far as I'm concerned, as long as the dorsals are still rising and the whales are still singing, everything will indeed be just fine.