Wriiten By Aaron Kirkpatrick
After 3 amazing months it is now my last night on Gil Island. The last month has passed by in a whirlwind of whale activity and nice weather, yes I said it nice weather! Two weeks spent on Ulric Point again and two my last two weeks spent at the lab. It has been a magical month and I will try my best to summarize all the whale activity. It all started when I headed back to Ulric Point for another two weeks on the out camp, the second day we were there we had started to hear orca calls on the hydrophone and we had a report of orca on the southern side of Campania. At the time we had the Roller Bay visiting so they took off straight away and I called the Guardian watchmen who headed out in their boat and took me with them. We soon found the orca between the Wall islets and Dupont Island; it was the R4's and the B's. It was amazing to see these beautiful animals again, the sun was beginning to set and as their blows came into the air they would sparkle in the sunlight. We followed them for what seemed like hours and even had them swim right underneath us, there really is nothing else as magical as an orca swimming right under the boat and you can see all of their markings. With seeing the Orca I was quite content to spend the rest of the two weeks not seeing whales and I would have been happy.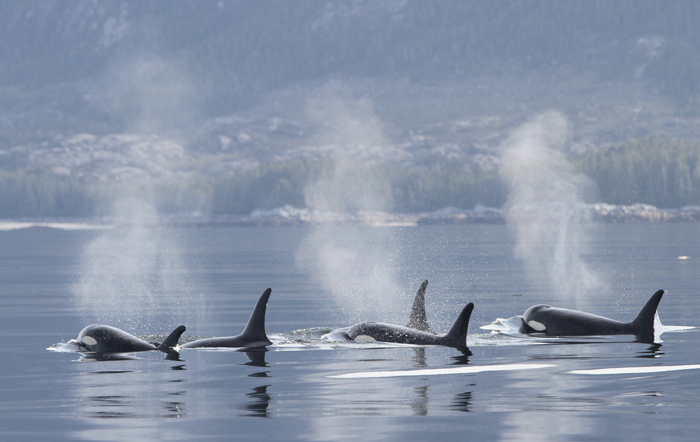 A few days later however we were lucky enough to have 13 humpback whales come by the shelter and bubble net feed right in front of us multiple times, they were just beyond the kelp line which was just amazing to see. It was really special to be able to listen to the whales making their feeding calls and then see them erupt through the water with their mouths wide open. Again I was left speechless and would have felt content if I didn't see another whale for the rest of my time on Ulric. Yet again though only a few days later the hydrophone was ringing with the sound of Orca, we eagerly waited for them to come out of Beauchemin Channel and then it just got plain right crazy. There were orcas everywhere across from us to Rennison. We had orca in the distance, orca mid channel and even orca right in the kelp in front of us. The whales slowly all headed north and we thought everything was over when all of a sudden a female and tiny calf came right around the corner. The calf was so small it was just so tiny. Then we heard echolocation as the mother disappeared into the kelp. The calf then started darting around the water and I was holding the camera when its whole head came right out of the water. Yet again another story to add to the long list that has grown constantly here that I will never forget.
To top it off the very next day we had another mom and calf, this time of the humpback variety. The mom and calf seemed to be sleeping and slowly passed us when the calf suddenly headed straight into the kelp and started rolling around. They then slowly took off and we were left alone just smiling to each other at what we had just seen. As we were writing everything down they came back and this time we headed out onto the rocks to get a closer view. The calf started rolling in the kelp only about 10 meters from me and then one of the single most amazing experiences I have had occurred.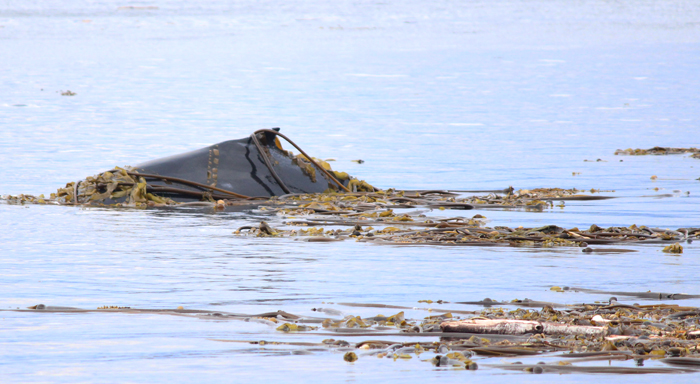 The calf came right towards the rock where I was stood it couldn't have been more than 7 meters away from me when it stopped and its head slowly rose from the water. I just looked at Rachel in complete silence and we both knew something special had just happened. The calf took off and then out of nowhere started breaching; it was amazing to watch this tiny calf breach out of the water multiple times. We ran across the rocks and followed them and watched as the tiny calf just kept breaching and breaching. What an unreal few days, surely I thought it couldn't get any better? On our final night however I was very fortunate to head out with the Guardian Watchmen when orca started to show up, they must have been lined up across Aristazabal for 2 miles and we slowly made our way across them getting ID shots. It turned out we had the A24's, A4's, I31's and the I11's. It was just amazing to get to spend more time on the water with these beautiful creatures. We followed them for hours and eventually ended up off shore on the west side of Rennison when I spotted some splashing in the distance which I thought was an orca so we headed out further, and boy was it worth it. A small juvenile orca breached 3 times right in front of us. It really couldn't have been more perfect, the snow capped mountains in the background, the silent still water, and this little juvenile orca jumping out of the water. I was extremely lucky to get an amazing picture of this and it is definitely something I will treasure for a long time. What a two weeks on Ulric Point, what an amazing and special place which I will definitely miss.
The next day I was back on Gil Island struggling to put up my fantastically unreliable tent. Fortunately the weather really had changed since my first few weeks here and it was bone dry and warm. It's quite nice to sleep in a dry tent, something I have not experienced much since being here. A few days after being back I was on shift when I was standing on the balcony watching a mother and calf humpback about a mile away from us. All of a sudden the calf breached and it was just amazing to see the whole body slowly turn in mid air before smashing into the water and creating a huge wall of water on all sides. Over the next few days the weather was still amazing and I was standing on the balcony early in the morning with Hermann, the water was just crystal clear and we joked that it would be unbelievable if a humpback came by that morning because we would see the whole body underwater. Well I think some whales had been listening to us because slowly around Fawcett point came two very relaxed humpback whales. They slowly drifted around Taylor Bight and then right in front of the lab. They really couldn't have been closer to shore unless they beached themselves. What a sight, two humpback whales both completely visible under water. Just stunning and simply unbelievable we watched them slowly drift by us and you could see their huge pectoral fins just gliding through the water. What an image, it will certainly be burnt in my memory forever. Two days later we had more humpback fun, a lone humpback in the distance breaching constantly over and over, then he would roll onto his back and just slap his pec fins down, the air was silent until he would bring one of his huge pecs down on the water and it would sound like a gunshot going off.
This all passed the days quickly as you can imagine and soon enough it was my last week on Gil Island. It was also Rachel's last week and so we decided to take a day of and go over to Campania Island and climb X Mountain. What a hike! It was a long way up by it was worth it, and we even spotted some whales on the way up. When we got to the top you really got an amazing view of the surrounding area and it really made you feel how unique this area really is. I couldn't even imagine an oil tanker 3 football fields long travelling through such a peaceful spot. After we thought Rachel would be leaving the next day but I guess fate had one last twist for her Gil Island adventure, the ferry had broken down so she had to stay an extra day. She could not have had a better experience. I woke to her shouting Orca and ran out to the lab to see two groups of orca slowly drifting by Ashdown, instantly Hermann was in the boat with Rachel heading towards the orca. When they reached them I just saw orca everywhere at least 20! They were resting and were probably averaging about 0.0001 knots. Hermann and Rachel then headed back and Claire and myself were able to see the whales. They had barely moved 30 meters and we soon caught up. It was just incredible the water was almost completely flat, there was a huge group of resting orca and the fog had just started to drift over the trees. What an image! We watched as they slowly drifted up and down and then finally woke up. Hermann had the camera and just as he was holding it up one of the orca sky hopped. WOW!! Something that I had not yet seen but will probably never forget, this whale came out of the water without making a single sound and raised the top half of his body out of the water, the sun was shining right on his white belly and he was just bright white. What an amazing sight!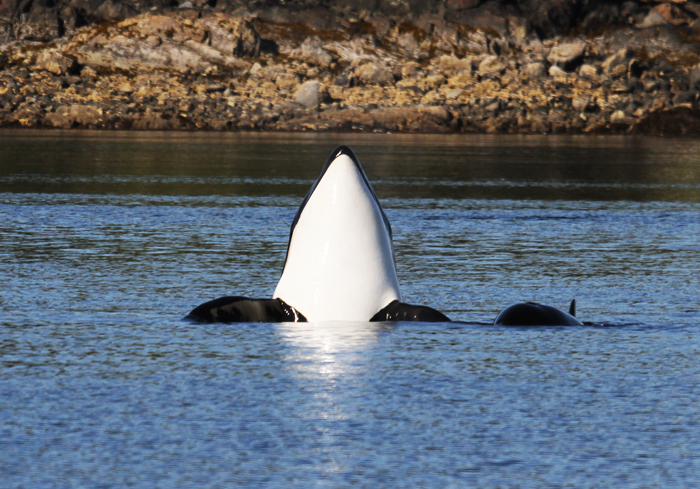 After the whales turned around and headed straight into Taylor Bight and started foraging, they were spread out everywhere. We drifted into the bay and just watched in awe as the orca went about their everyday lives. What an unforgettable orca experience and one which will probably be my last at Cetacealab.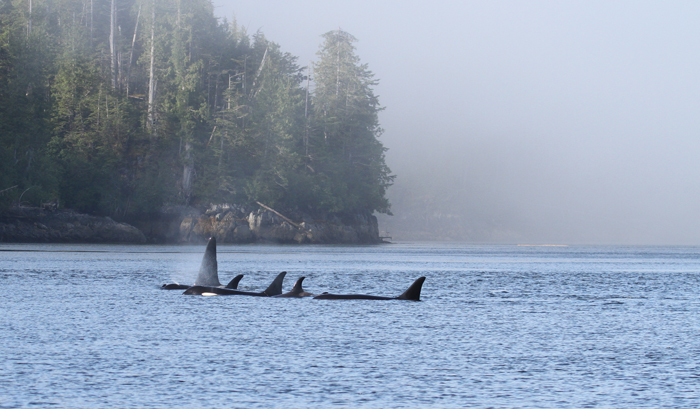 It has been an amazing 3 months and words really can't describe the experiences I have had. The whales, the scenery, the Gitga'at people, Hermann and Janie have all been just unbelievable and I will certainly not forget this place. Anyone who would even spend half a day in the Great Bear Rainforest would soon realize what a special place it is and I feel truly grateful that I have been lucky enough to experience everything it has to offer. It is hard to describe this place, it is such a healthy and peaceful environment, it has so much to offer to us and it would be a sad day if an oil tanker route were accepted, as we would lose everything here. I will miss just about everything on Gil Island (apart from my tent) and will no doubt find myself back here at some point in my life!