This wonderful Blog was written by Samantha Phillips from Whale Point
On August 16, a report came in through the VHF radio that has become all too common these past few weeks. "Whale Point, Whale Point. A humpback whale has been spotted in Kitimat, that is entangled in fishing or crab gear."
This is the fifth marine mammal report that I've observed in five weeks, a stat that hits very close to home for those of us who have witnessed just how magnificent these creatures are and how vital they are to this ecosystem. It's been almost a week since that first sighting, and we are no closer to finding this poor whale and freeing it from the uncomfortable, heavy, unnatural grip of the netting.
The morning after the report, all hands were on deck including Gitga'at Guardians, DFO, and Bunker and Nicole of Hartley Bay. We searched from shore and sea for signs of this distressed whale. The boats were on the water for twelve hours until the night grew too dark to see. The Elemiah anchored for the evening, its passengers walking to shore feeling defeated.
I woke up the next morning to a tap on my tent and Janie's voice, "We are going out again today. I need to make sure this whale is alright."
An hour later, Janie drove the boat to the centre of Squally Channel (also known as Enbridge's proposed tanker route), shut off the motor and closed her eyes. We sat in silence for a moment. It wasn't long before we heard powerful blows coming from all sides.
As I've happily observed many times over my stay at Cetacea Lab, there were once again more whales than there were people.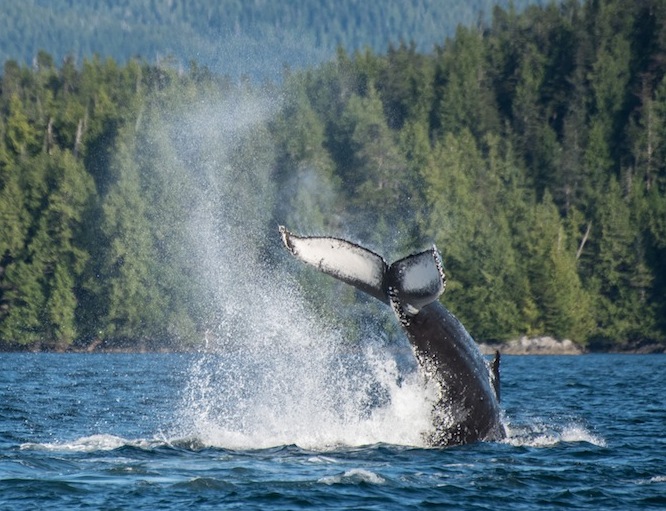 From whale grouping to whale grouping, we scanned for any injuries or dragging objects. So far, these whales all appeared to be healthy and free of human impact. This method led us into Lewis Pass, where our hearts were left fluttering at the sight of over twenty humpbacks gathering and dividing, over and over again. We watched in amazement, wondering what behaviours were hidden beneath the water's surface. Still, not a suffering whale could be seen.
Until of course, a massive Disney cruise ship passed at least 20 knots – far too fast for the tight waterway we were occupying, and directly over a spot where the humpbacks had been spotted blowing only moments before.
A single tonal blow echoed through the trees around us, its puff of mist rising up out of the behemoth wake of the ship. This whale was not impressed.
Janie once again kicked the Elemiah into gear. "I just saw Dolphin and her calf there. If that tonal blowing whale is Dolphin and if she doesn't come up with a calf, there are going to be some serious problems."
The whale came up once more, with the same grunt and haste. We watched her dorsal arch, in preparation for a dive, and flick her fluke into the air. The five of us on the boat let out a shared sigh of relief. It was Drop, a humpback that has not been seen with a calf this year.
The thought of witnessing a 35 foot humpback as it is struck by a boat 100 times its size left a solemn quiet over us all.
As fortunate as Drop was this time around, the event with the cruise ship is likely to have a different outcome in the near future. If we allow massive LNG tankers and even more boats to travel through these narrow passages with toxic materials, these whales won't be able to hear one another, let alone have an opportunity to simply breathe safely.
Still, the humpbacks continued to dance around the Elemiah. In the midst of close calls with cruise ships, and the thought of a tangled humpback roaming towards its death, the marine life continues to thrive. Breaching, bubble net feeding, greeting one another – it was a perfect illustration of just how much life, and beauty, is at risk.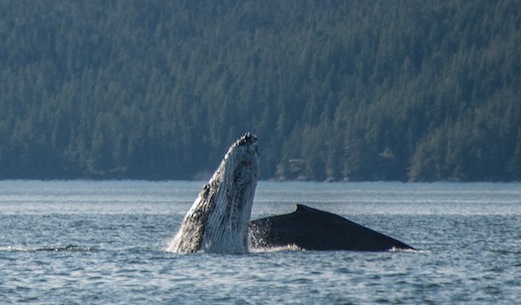 This thought passed through my mind seconds before Triangle surfaced right beside our boat, followed by her calf breaching right over her. For twenty minutes we watched in awe as this young and spirited animal mastered the art of thrusting its entire body out of the water for the world to see, its only mark a fleeting yet giant splash on the surface.
"Does he have a name?" I asked Janie. She smiled, "Not yet – but you can name him if you'd like."
"It's that easy?"
"Yes, we just have to send it through and it's official."
Today, I write this post after finally finding a name I'm quite happy with.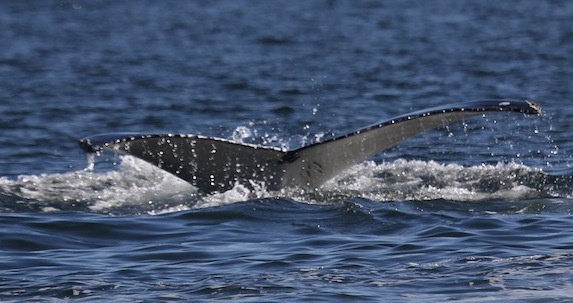 World, meet Silver Lining. He is playful and curious and he visited me with his enthusiasm just when I was feeling discouraged about the fate of my favourite species and my new favourite place.
Silver linings are what we get when the sun shines just on the other side of the rain cloud. And every silver lining I've observed has always been able to penetrate the darkness, spreading its warm glow across the sky. Just like the glow this calf spread towards our boat.
Perhaps this calf will be the Silver Lining this place needs, spreading his energy all across his great migration. He is demanding our attention. And he's trying to remind us just how ugly and empty and insincere this world would be if there weren't a thriving Great Bear Rainforest and Great Whale Sea. Whales migrate impossible distances to get to this wild, rich ecosystem. They are being pulled to this northern coast because it offers them the best chance at survival. Research will interpret breaches in many ways. But how can you look at a whale breach and not feel with every cell in your body, "This is a creature that is happy to be alive"?
The wild of this place has brought the whales, and the whales have brought me, and I can't help being happy to be alive here, too.
There is a lot threatening the well being of these whales and these waters. If you find yourself lucky enough to experience the energy of this place, you will see whales, and you may even see a crab trap wrapped around one of their fins. Your heart will break for this whale and you will realize how hard it will have to fight to free itself.
I beg you to fight just as hard to free this place of any human impact. Fight as hard as you can. And when you do, keep your eyes peeled for Silver Lining. I have a feeling he will show himself at just the right moments.
I've met a lot of compassionate, angry, motivated people during my stay at Cetacea Lab. I see how hard they are fighting, and how quickly their passion transfers to every individual they meet. I just know they will be rewarded with more silver linings (read: whales) than they'll know how to celebrate.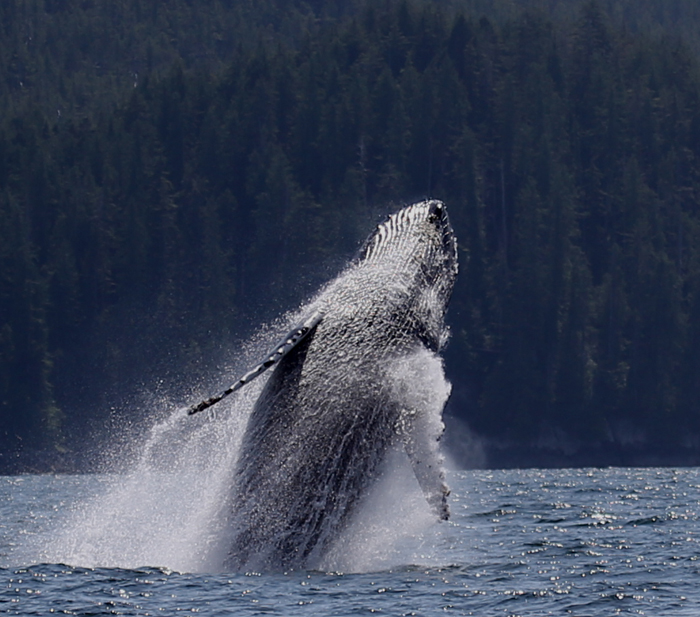 This I have to believe.